Welcome to Luxury Bahia Principe Ambar
Luxury Bahia Principe Ambar - Adults Only - All Inclusive
At the Luxury Bahia Principe Ambar Resort you'll spend the best days of your vacation in a dream spot, perfect for couples and clients who take pleasure in luxury and who want to enjoy the exquisite service of the Don Pablo Collection seal.
You'll love it because...
For its charming spacious rooms, exquisitely decorated and with all the luxury you can imagine.
For its exclusive Don Pablo Collection service, stamp of luxury of Bahia Principe
For its proximity to the beautiful Caribbean Sea and the fact that it is exclusively for adults, which makes it perfect for couples.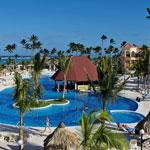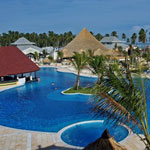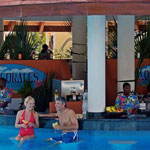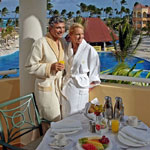 Relax in the Spa
Relax and luxury are just the words to describe this charming, tropical Spa exclusively for guests of the hotel.
In the Bahia SPA of Luxury Bahia Principe Ambar you'll enjoy an extensive and diverse menu of massage, beauty and hairdressing services.
There is an Oriental area to have Ayurveda treatments, based on Hindu philosophy, and for the most lovey-dovey, a VIP cabin with private Jacuzzi.
Have Fun in the Pool
Tranquility is guaranteed in the hotel pool. There is a big lake-style pool exclusively for you and only for persons over 18 years of age.
Besides all the activities that you can enjoy in any of the pools, there are 2 bars available, one of which is in the pool so you don't have to get out of the water and a towel service so you always have one at hand.
1 big lake-style pool exclusively for Ámbar guests
1.35 m deep so you can get lost in its blue waters
Adult pool, only for persons over 18 years of age
Towel service at the pool, always ready for a good swim
1 bar next to the pool and a wet-bar inside it, so you can swim up to your drink
Pool Activities
Todas las actividades para tonificar tus músculos dentro o fuera de la piscina, ¡incluidos!
All the muscle-toning activities in or out of the pool are included!
Pilates
Step aerobics
Aquagym
Try scuba diving equipment
All Inclusive
Everything you would like to drink in any of the pool bars exclusively for you and towel service are included in the price.
All-inclusive so you can have endless fun.
Enjpy the Best Beach
One of the most beautiful beaches is Bávaro beach, in the heart of the Caribbean and Punta Cana. The beach, exclusive for the hotel, has soft white sand, crisp blue sea and palm trees that punctuate the scene with their bright green.
Your vacation at the Dominican Republic's loveliest beach in the most luxurious hotel with the Don Pablo Collection seal.
From the hotel you'll have direct access to the beach, from the white sand to the bluest and most crystal clear sea that you can imagine.
Desde el hotel tendrás acceso directo a la playa, por la blanca arena, hasta el mar más cristalino y azul que puedas imaginar.
Don't forget your bathing suit, you'll never want to get out of the water at this beach.
The average annual temperature is between 27 and 32ºC.
We're waiting for you in the fantastic Arrecifes bar, all-inclusive and for the exclusive use of clients of the Gran Bahía Príncipe Ámbar.
And if you want to relax even more, have a massage in the Bahía Spa beachfront gazebos.
Beach activities
Join in all the activities and much more, included in the price of your booking:
Windsurfing
Kayaks
Sailing
Catamaran
Snorkelling
Beach yoga
Beach Aerobics
All-inclusive
Everything you would like to drink in the hotel's exclusive bar is included, and all the fun, activities and relaxation are also included. Are you coming?
Sports & Golf
Enjoy any of the daily activities on the beach or water sports at a perfect temperature and in a paradisiacal setting.
Learn to sail with a catamaran, the wind arts of windsurfing and even the banana boat with your friends.
Each and every one of your activities and favourite sports are here. Find yours.
Golf at the Resort
Golf lovers can choose from a wide selection of golf courses, located in spectacular settings and very close to the Luxury Bahia Principe Ambar. One of our favourites, only 5 minutes from the resort complex is the fantastic course designed by Nick Price, the golf course at Punta Blanca Golf Club. Holes: 18.
Also the course at White Sands Golf, with 9 spectacular holes. Known for its big lakes and coves. 15 minutes from the hotel.
Bávaro Golf: 20 minutes from the complex, holes: 18, par 72, La Cana Golf Club: at just over 30 minutes from the hotel, holes 18, yards 7,152, Cocotal Golf & Country Club: Holes 27, par 72. 20 minutes from the hotel.
Sports for every Taste
Traditional
Tennis (extra charge for lights)
Paddle tennis
Gymnasium
Stretching
Aerobics
Yoga
Soccer, Basketball, Volleyball
Bicycles
Pétanque (beach only)
Soccer
Basketball
DARTS
Volleyball
Mini Golf
Non-motor water activities (One hour free per day)
Windsurfing
Kayaks
Sailing
Boogie boards
Catamaran
Snorkelling
Catamaran, boat and fishing outings (with charge)
Scuba diving (PADI) (with charge)
Motorised (with charge)
Fishing Boat and Tour
Banana boat
Nightlife
Nightlife at a resort like the Luxury Bahia Principe Ambar resort means enjoying exquisite service in any of our bars and restaurants.
It means enjoying a perfect climate and a starry night, walking on the beach for the laid-back or going to the discotheque. Until you can't stand!
Activities and Shows
If you like to dance, check out the Conga Bachata discotheque where you can enjoy disco and 90s music. But if you prefer to sing, check out the Karaoke Piano Bar and show us what you've got!
Weddings and Anniversaries
At the Luxury Bahia Principe Ambar we'll give you an unparalleled scenario to celebrate the best day of your life together with your most loved ones.
All the details you need, you only need to wish it and it will come true.
Ask about our wedding packages, the surprise gifts for the newlyweds and more in our amazing organisation. A different and special trip to celebrate your union in a luxurious setting.
Celebrate your wedding or anniversary at the Luxury Bahia Principe Ambar, with all the luxury of the Don Pablo Collection seal, a dream spot for the best day of your life.
Honeymoons
Your honeymoon is one of the most beautiful moments after the wedding celebration, choosing the perfect place is important so it will be a big success.
Celebrate your honeymoon at a dream location, at the Luxury Bahia Principe Ambar, surrounded by beautiful white sand beaches, with all the most exclusive services, for an unforgettable honeymoon.